Bio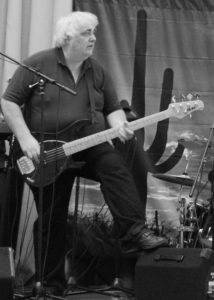 Mike has played guitar and bass in assorted cover, tribute and original bands since university, including a period as Lindsey Buckingham in tribute band Fleetfoot Mike, and two stints on bass with London folk/psych rockers the Divisionists.
Musical Influences
Guitar: Brian May, Lindsey Buckingham, Mark Knopfler, The Who, Jan Kuehnemund (Vixen)
Bass: John McVie, John Entwistle, Share Ross (Vixen/Down 'N' Outz), Annie Clements (Sugarland/Maren Morris), Aden Bubeck (Miranda Lambert), Kasim Sulton (Meatloaf)
Favourite Artists
Country: Martina McBride, Chris Stapleton, Trisha Yearwood, Lady A, Miranda Lambert, Kathy Mattea, Sugarland, Little Big Town
Elsewhere: Fleetwood Mac, Dire Straits, Vixen, Magnum, Show of Hands, Fairport Convention
Gear
Sire Marcus Miller v7 5-string bass
Sterling S.U.B. Ray5 5-string bass (live spare)
Gear4Music acoustic bass
Ozark 515BTEC/*/BK (that's a mouthful) cutaway resonator ("Better Dig Two", "Gunpowder And Lead")
Goldtone ES-Banjitar 6 string Telecaster-bodied 'ganjo' ("Wagon Wheel")
Andoer Dyna Compressor mini pedal (MXR DynaComp clone)
Joyo Vintage Overdrive pedal (Tube Screamer clone)
Palmer Duetto pedalboard mixer
Line 6 G70 wireless and three transmitter packs.
Fender Rumble 500 combo, or Laney RB6, bass combo
SubZero 20R valve combo, or Tipton Slasher head and Blackstar HT410 cab
All Mike's instruments are set up by Jon Haire Guitar Services, and Trev Ridney of Tipton Amplification keeps his valve amps in order. As you may have noticed, he's not a 'sticker snob', and is quite happy to play whatever sounds and feels good. Especially after Jon or Trev have had their hands on it!