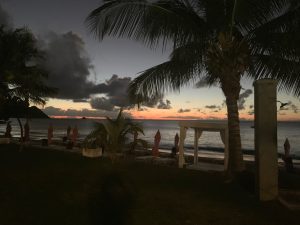 It's perhaps an unlikely backdrop for the formation of a country rock band, but this was the view before me 4 years ago this very week in St Lucia when a message popped up on my phone from Mike. Was I interested in being part of a gigging country rock band? It took all of 5 seconds and and another sip of my (near perfect) martini to respond saying 'of course'! I hadn't played in a rock band for years and then it was folk, not country, rock – but the invitation was simply irresistible. I'd loved country since a chance evening in back in 1991 when channel hopping on TV one Saturday night and landing on the CMA Awards! Within seconds of my response, the conversation on Messenger became three way 'Steve meet Andy, Andy meet Steve' and so the rapid exciting chat started about bands, songs and, inevitably, gear, as Americana (then without a name) came into being across the Atlantic.
Mike, Andy and I met a week or so following my return to the UK and we had a great evening pouring over Andy's infinitesimal music collection on his Mac and choosing, as I recall, three songs to go with initially – and they're all still in the current set! When we first picked up instruments, with Anne and James joining us, we knew that we had something (in addition to the big grins on our faces) and, within weeks, we were rehearsing with Marie (who was then our lead singer). Fabulous times….and great fun (as it still is). We wouldn't gig for over a year – and then with Victoria on lead vocals – but this was a band for whom 'ok, that's alright, it'll do' was never sufficient. And that's still the case. Nashville's musicians and producers are some of the finest in the world – and replicating the sound and 'feel' is not always easy with only 6 people on a cold winter night in Peterborough. If a song isn't perfect, it stays in the rehearsal room.
Looking back on those early days….like a postcard from a previous year's holiday…makes you realise how far you've travelled. And we've such come a long way – especially with Evonne at the lead. Songs have come, songs have gone and some songs have come around (and around) again (Jolene being one!). Instruments and gear have mainly come in the same time! (Ovation guitars, Bridge violins and Wampler effects pedals have all benefitted immensely). And Jon at Guitar Services in Peterborough has been the wizard who has kept us in perfect intonation and with so many 'custom' modifications and adjustments.
And so I'm here in St Lucia again looking at that same sunset. (It's the hardest gig I know!). I can't wait for the next 4 years of Americana…