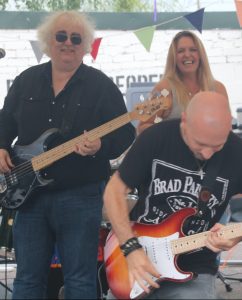 We had a brilliant day at Westfest – massive thanks to the organisers for inviting us, and to the not inconsiderable crowd who seemed to be having a fun time. Only a short (45 min) set, but lots of favourites, and a great sound to boot. 
There's a gallery of pictures, thanks to Americana super-fan Denise (we love you, Denise!), at the bottom of this post. (As ever, if you've taken pictures at an Americana show and want to send us some, drop a note to pr@americana.org.uk and let us know.) 
Next up, we have a completely mad day on Bank Holiday Sunday (26th August). First off, we're kicking things off with a short set at Thorney Live Charity Music Festival, a popular and long-running local show.
There's a £10 entry, free for accompanied under 16s – the gates open at 11:30 and we're on at 12:30. For your admission, you get a chance to see a bunch of excellent local artists, all in aid of Leukemia UK, East Anglia's Children's Hospices and Thorney Youth Project.
After that, we're leaping off stage, loading up the cars again and heading for the Sir Isaac Newton in Grantham, where we're playing a more usual two longer sets from about 5pm (the 'about' may depend on traffic and how fast Dave the sound engineer gets there!).